It can be difficult to decide where to settle down and start your career or to make the decision to move for a new career opportunity. There are several reasons why you may choose one location or another. We chose to begin our operations in Texas because we saw a need in our communities here. We're now creating hundreds of dental careers in Texas and helping to serve the underserved!
So, why should you consider a dental career in Texas? We're sure you've heard the old saying, "Everything's bigger in Texas." Well, this includes the smiles and the dental careers! There are so many opportunities for work and play here in the Lone Star State!
Why the Smiles Are Bigger in Texas
Tons of Fun for Everyone
Whether you love relaxing at the beach, hiking scenic trails, visiting historic sites, or exploring your town or city, there's something for everyone in Texas! The state's geography varies greatly depending on where you are.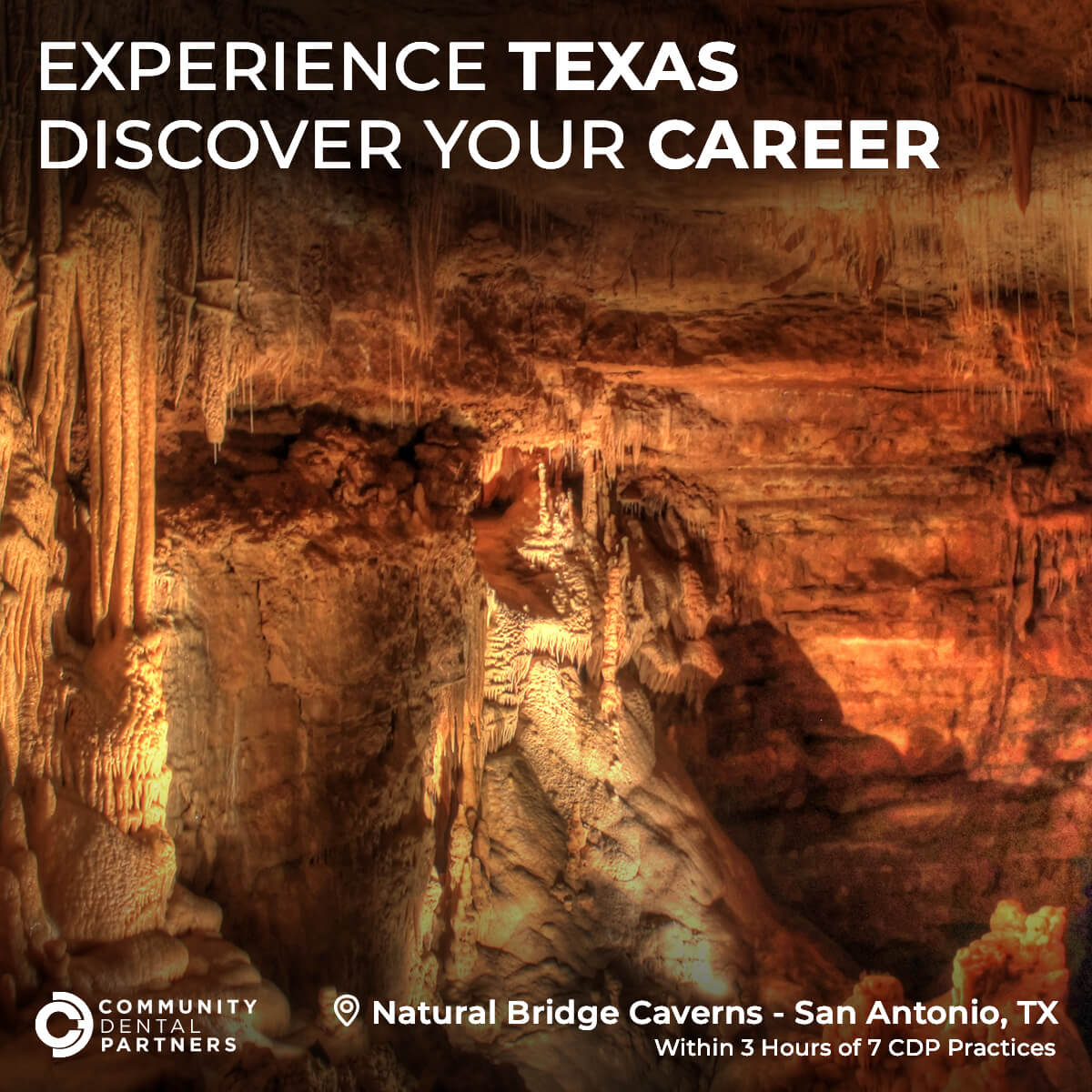 North and West Texas includes the Great Plains, home to the Caprock Canyons and Palo Duro Canyon state parks. North Central Texas is home to the Dallas-Fort Worth metro, as well as acres and acres of heavily forested areas. Texas's east coast is home to our Gulf Coast beaches and plenty of national parks, like the Big Thicket National Preserve and the Padre Island National Seashore.
And, in west Texas, you'll find an incredibly diverse region, including desert valleys, wooded mountain slopes, and desert grasslands. Big Bend National Park, the Guadalupe Mountains National Park, and the Rio Grande Wild and Scenic Rivers are here, too.
Love sports? You'll be right at home here! Whether it's pro or college, you'll always find us rooting for our team when the game's on. We're big fans of football, basketball, and hockey. Make sure you're familiar with Texas teams like the Cowboys, the Texans, the Longhorns, the Mavs, the Stars, and the Spurs, to name a few.
Texas is also packed with museums, historic sites, attractions, wineries, and so much more. With so many options, you'll never run out of fun things to do with friends or family!
An Amazing Sense of Community
Texas is a state known for its big, bold character, and part of that character is caring for one another. We know that moving to a new place with no familiar faces can be challenging. Texas is one state where you'll quickly feel right at home. Maybe it's our southern hospitality, or maybe we're just too friendly for our own good, but we watch out for one another here!
New neighbors are sure to bring around a plate of something delicious when they come by to introduce themselves and make sure you're settling in alright.
Unbelievable Food
Speaking of "something delicious," you're sure to find your new favorite restaurant soon enough. There is so much incredible food here in Texas, whether it's native to the state or made its way here. You'll find the best barbecue and Tex-Mex here, and don't let anyone tell you differently. If you're craving something else, you're sure to find it here!
Thrillist ranked all 50 states by their food, with Texas in first, an award we will happily accept. Take a look at their review to get a sample idea of Texas food!
Lower Cost of Living!
It's cheaper to live in Texas! Across the board, the cost of living is lower than in many other highly desirable states, like California, Florida, and Washington. Plus, there's no state income tax, meaning that you get to keep more of what you earn. That means more money to pay off dental school debt, buy your first home, or anything you want!
We know you're not just in dentistry for the money, but you do have to be able to support yourself. Texas is an incredible state to live and work in, and the lower cost of living really helps you make every dollar count so you can achieve your financial goals.
Why Dental Careers in Texas Are Bigger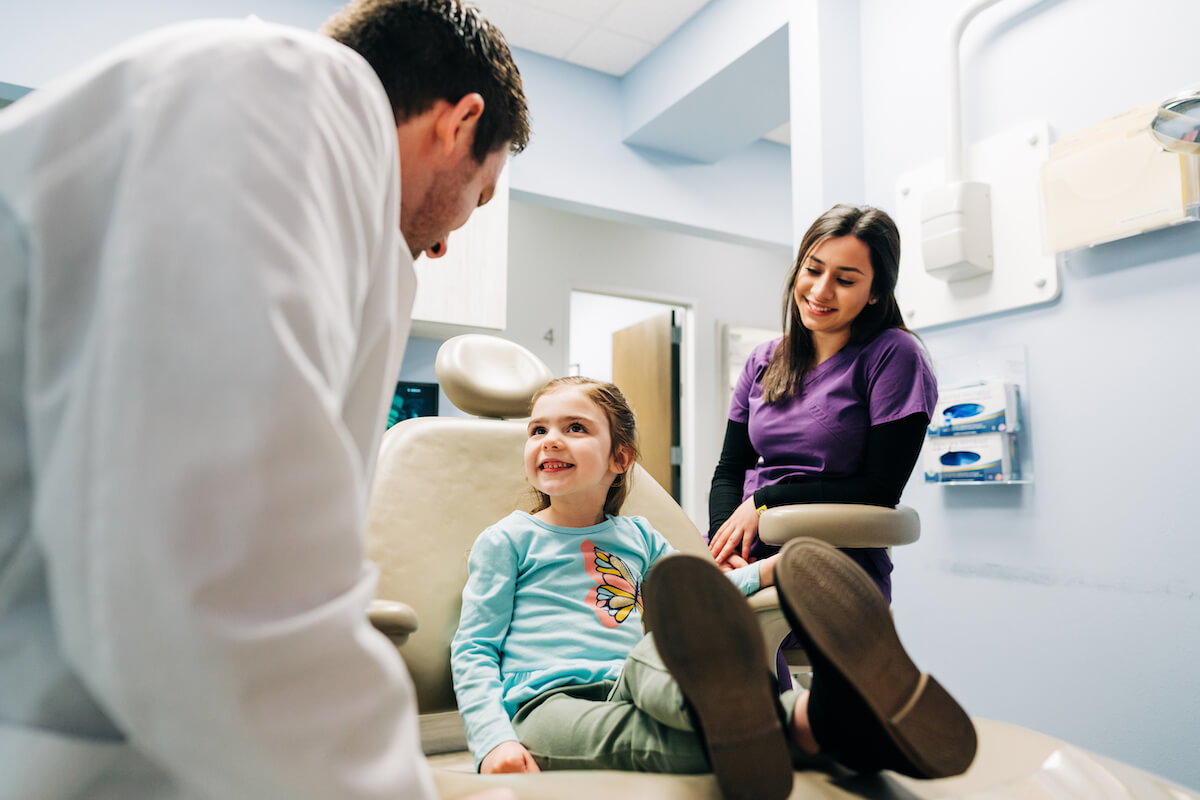 Our Work is Meaningful
There are millions of people living in underserved areas in Texas. In fact, 75% of Texas counties are federally designated Health Professional Shortage Areas (HPSA) or Medically Underserved Areas (MUA), according to TRHA.org. At Community Dental Partners, we believe that everyone is deserving of dental care. Our mission is to provide dental care to these underserved communities.
Research from the American Dental Association suggests that the overall condition of the mouth and teeth can affect an individual's quality of life and their ability to interview for a new job. Many people most affected by poor dental health are those with low incomes. 61% of adults surveyed cited cost as a reason they have not visited the dentist more frequently. Additionally, 15% said that they could not find a convenient time or location. Location and cost should not be a barrier to care, which are problems we aim to solve.

This type of work is meaningful and life-changing for both our patients and our team. We aim to provide dental care to as many people as possible, and we'd love to have you on our team.
Greater Opportunities for Dentists
In serving rural and underserved communities, there is greater opportunity for our dentists. Because there are fewer existing practices, there is less competition to see patients. This allows our dentists to work with a large volume of patients and quickly grow their skills. In addition to growing your skills, at CDP, you're paid on production, so it can mean more money! Texas is one of three states with the greatest shortage of dentists, according to Becker's Dental + DSO Review.
High Projected Job Growth
As more and more people move to Texas, the need for dental care will grow with it. Between 2018 and 2028, jobs for dentists are projected to grow by around 32%, according to ONET Online. This places Texas second for job growth among U.S. states.
With such high growth rates, job security will be higher than in many other states. As dental careers in Texas continue to grow, CDP will grow along with it. And, as we continue to grow, you can grow with us, too!
High-Paying Jobs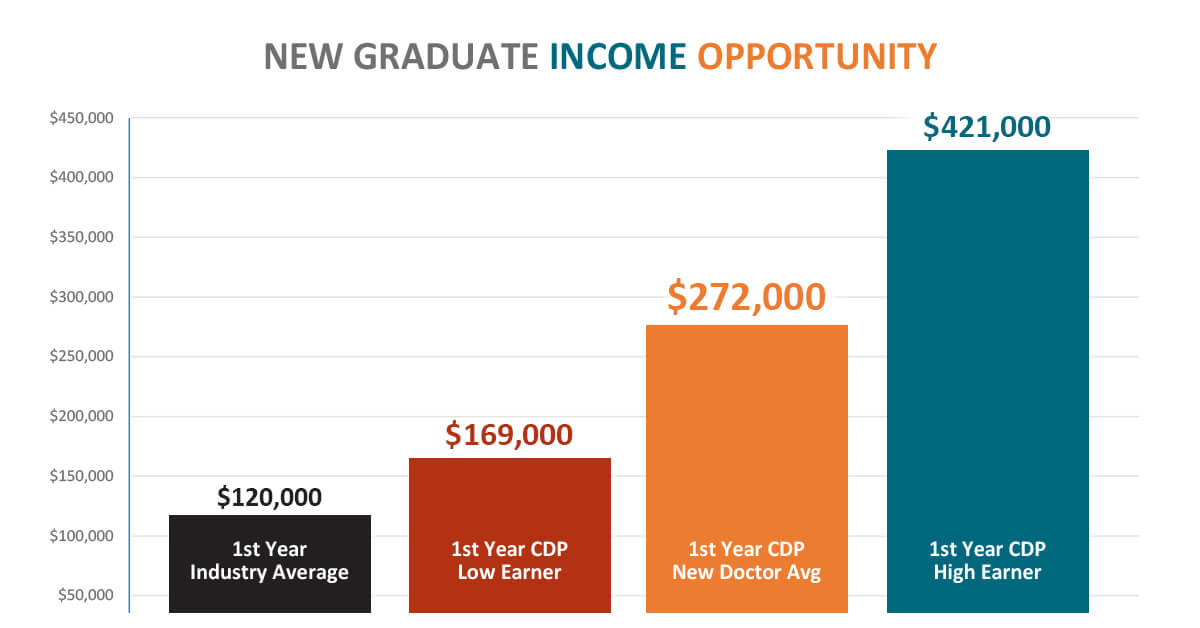 While Texas was ranked 23rd for dentists' salaries among all 50 U.S. states by BLS.gov, at Community Dental Partners, we pay our dentists above-average salaries. On average, our dentists earn $272,000 in their first year. Depending on production, some CDP dentists earn up to $421,000 in their first year! Compare this to Texas dentists' mean wage of $184,410, and the difference is clear.
One of the most important reasons our dentists earn more is because we pay on production. Many other practices, both private and corporate, pay on collection, meaning you only get paid when they collect from the patient or their insurance. Production is much better for you since you will be paid for the work you do, whether we collect on it or not. This makes a huge difference for dentists.
Wrapping Up
Starting a dental career in Texas is a smart move for dentists at any stage of their career. Not only is Texas an incredible state to live in, but it's also a fantastic place to work!
Ready to learn more about joining an incredible dental team here in Texas? Schedule a call with a Hiring Manager today to learn more about starting your dental career in Texas!