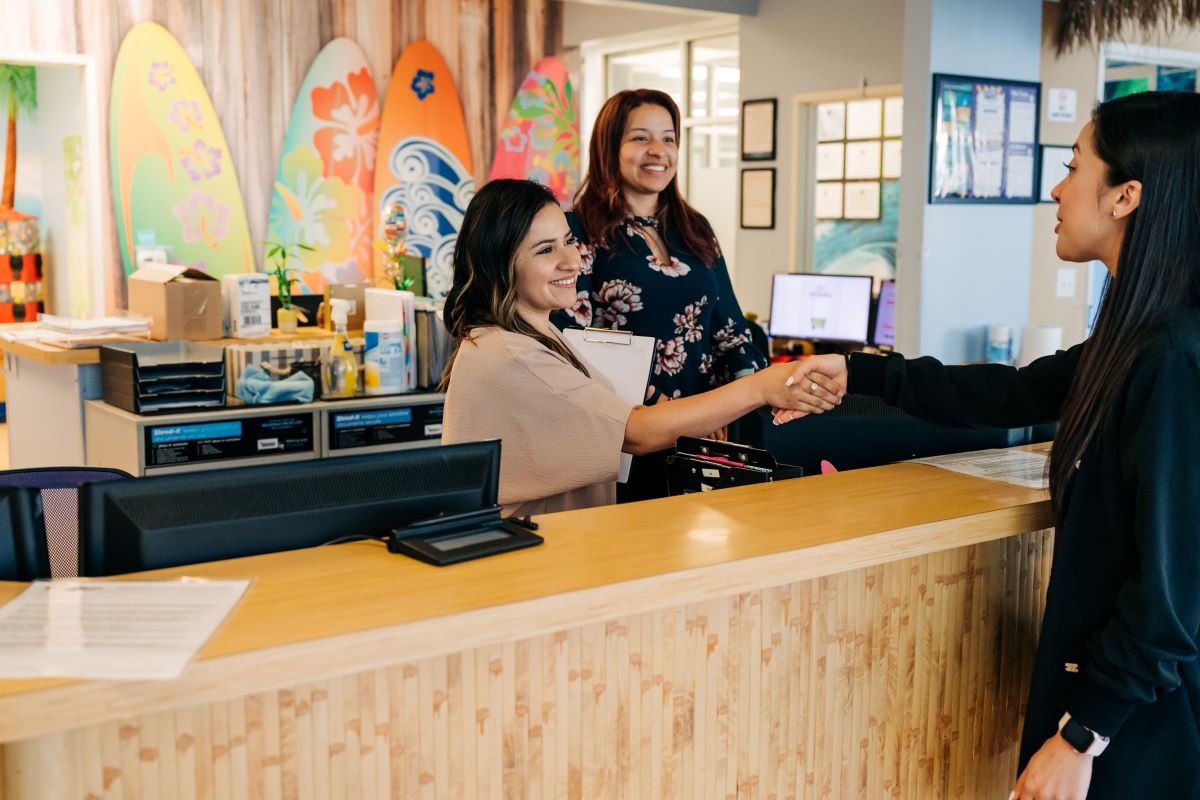 Interviewing for a new job can be nerve-wracking, especially if it's for your first job out of dental school. As much as you want to ace your dental job interview, be sure the practice suits your needs, too! Interviews for dental jobs are not just a one-way conversation. Come prepared with these 7 questions to ask during a dental interview!
What experiences and skills do you look for in an ideal candidate?
Of course, you will go to any job interview hoping you're a great match for the team. However, you'll also want to be sure the practice is a great match for you! You know your strengths and weaknesses better than anyone, so you'll want to be sure the skills emphasized by the practice are ones you feel comfortable with. For example, if the practice caters heavily to high anxiety patients, be sure you feel comfortable offering the type of experience those patients will need. You'll need an excellent chairside manner, a calming presence, and likely a level of comfort with certain types of sedation.
Likewise, it's helpful to know what level of experience they're looking for. While they've already seen your CV and know what you bring to the table, it can't hurt to ask whether they'd prefer a candidate with specific types of experience under their belt. Don't assume your status as a new graduate will work against you! Many practices actually prefer newcomers to the field who are still learning and can build strong habits.
What opportunities do you offer for expanded functions and ongoing training?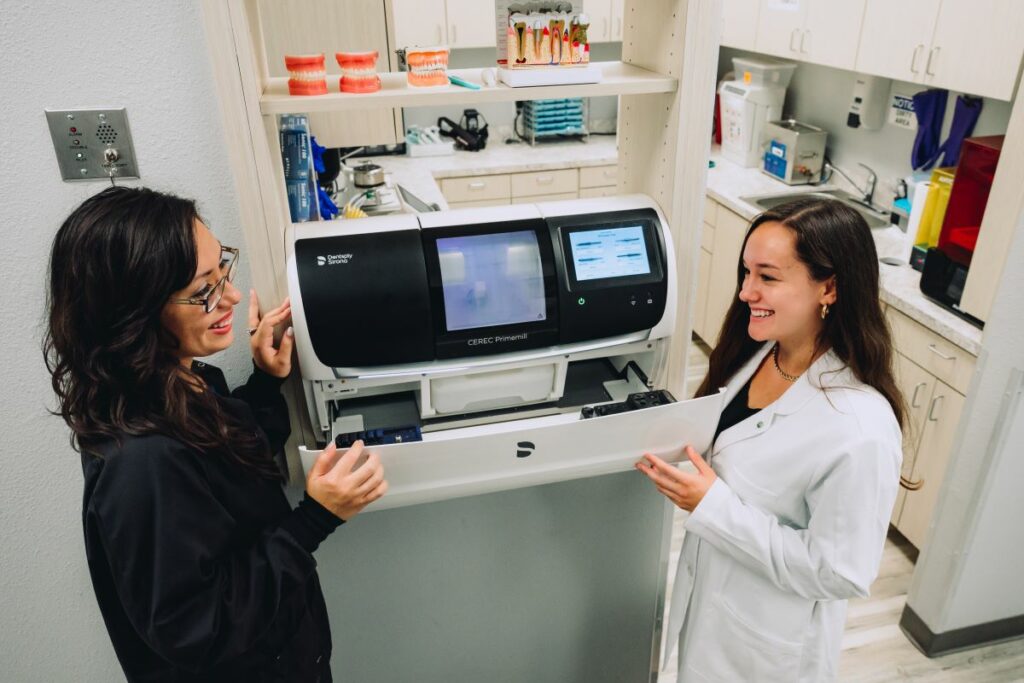 In the interest of ensuring a great fit in the long term, be sure the practice offers opportunities that align with your goals. Are you interested in providing orthodontic services or placing implants in addition to general dentistry? If so, you'll want to ask whether the practice will support your drive toward expanding the scope of your services.
As you progress through your career, you will need continuing education credits to keep your license active. You may also want ongoing training in new techniques or technology as it becomes available. Does the practice offer support for continuing education and additional training opportunities? Many practices attend dental conferences as a team or organize humanitarian outreach opportunities for an additional experience beyond your day-to-day practice.
What is your typical patient like and how do you address their unique challenges?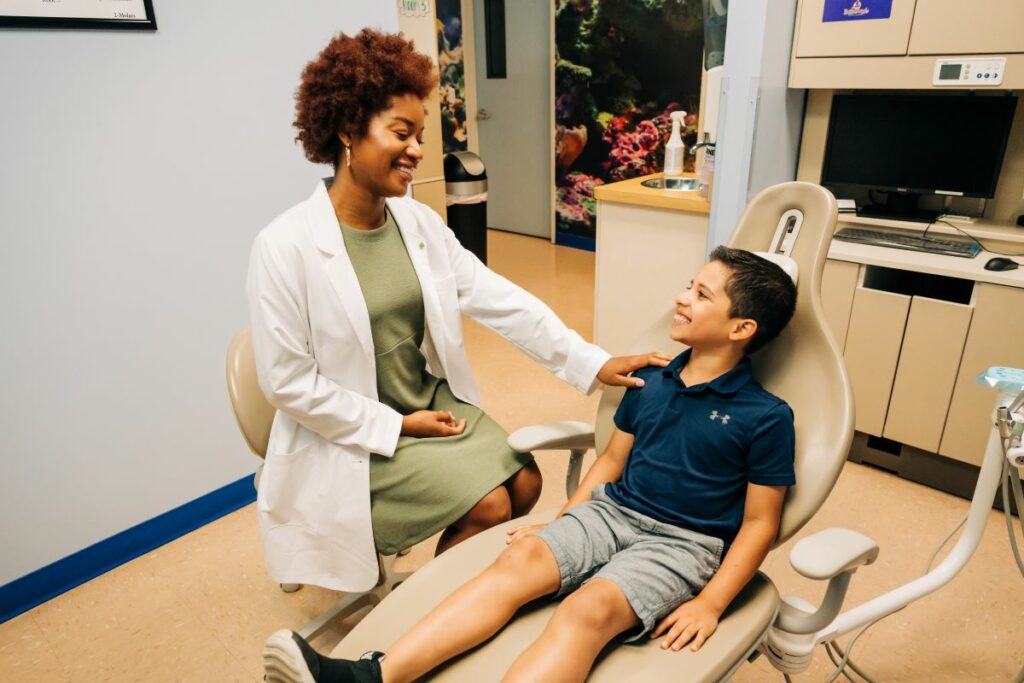 You may have a certain concept in mind for the ideal patient you'd like to serve. Obviously, those who wish to avoid working with children should not apply to a pediatric practice. However, patient demographics go way beyond just youth versus adult dentistry.
As mentioned above, some practices excel at treating high anxiety patients. Others may focus on rural populations who have not had regular access to care. Both of those practice types may treat more patients with failing oral health. Dentists practicing there may see more advanced pathology, which may attract some applicants who are seeking complexity and challenges rather than the same old thing every day.
However, be sure the practice is also well prepared to give their target patients the best possible experience. A practice that sees many patients with anxiety should have protocols in place to help you manage that fear. They might offer multiple levels of sedation, which you'd be responsible for providing, so make sure their protocols align with skills you have or hope to have in the future.
How do you support new employees in their first months on your team?
Especially if you're new to the industry, this may be one of the most important questions to ask during a dental interview. You don't want to be thrown to the wolves in any job, and it can't hurt to ask if your potential employer has specific protocols in place to ease your transition onto the team.
One of the main things you're looking for here is a dental mentorship. Does the practice have a mentorship program built into its orientation? Do they offer shadowing or observation hours? How will they help you build a healthy dynamic with the team? Don't be shy about expressing your level of interest in specific types of support, or what you're looking for in an onboarding process.
You may also want to ask what supports the practice has in place for challenges you may face beyond the orientation period. Will you be able to continue checking in with your mentor? How do they handle friction between team members to help keep a healthy working environment? This type of discussion can give you a good idea of how the practice works to maintain healthy team dynamics, and what you can expect when you run into problems.

What long term growth opportunities does your practice offer?
You may not know exactly where your career in dentistry will take you. However, you probably have some idea of the general long-term trajectory you hope to achieve. If you're interested in becoming a practice owner, be sure this practice will help you get there.
For those interested in becoming a practice owner, does this practice have an ownership track? Or, if you're more interested in working as an associate long-term, how can the practice help you grow in that role? Asking these types of questions gives your potential employer a sense of your ambitions and gives you some idea of whether or not you've found a good fit for growth and development.
How many new dentists do you usually add each year?
Is this practice growing? A good metric to give you some idea of the group's growth is how many new team members join in an average year. However, this question comes with a follow-up: how do you ensure enough patients to support that number of new dentists?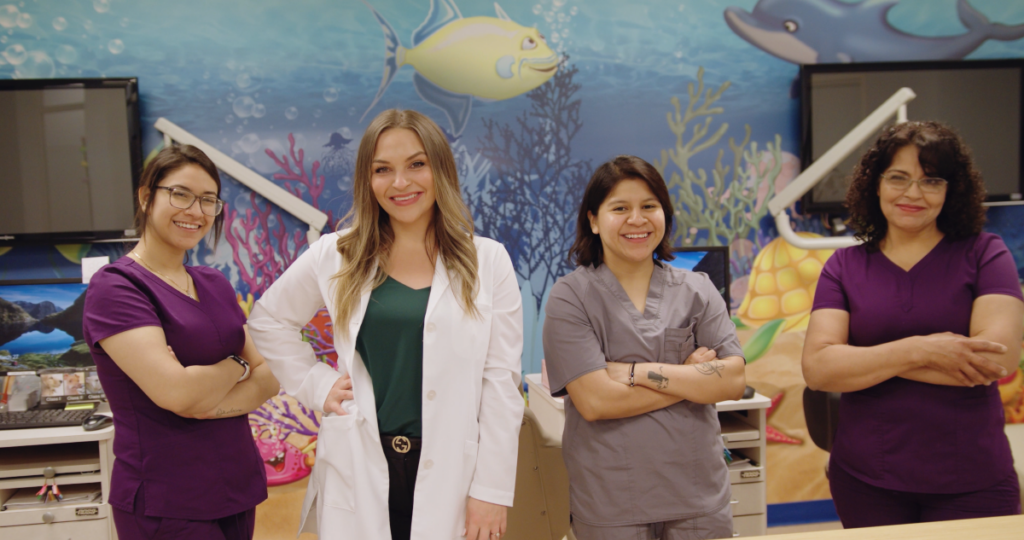 One of the most disappointing outcomes of a new job is finding that the practice can't supply you with a full schedule. Especially because your pay might be production-based! Some practices will expect you to help fill your schedule and take an active role in attracting new patients to the practice. Be sure you're fully aware of these expectations, and comfortable with them. This is one area where working for a group like Community Dental Partners can be especially helpful. We've got plenty of measures in place to keep everyone's schedule full!
What Is Your Favorite Part About Working Here?
This may seem like a softball, but your interviewer's answer to this question can give you some great insight into the practice's culture. No one wants to work somewhere they'll feel burnt out, underappreciated, or like they don't gel with their team. It's worth holding out for a practice whose philosophy of care aligns with yours. Looking forward to going to work makes all the difference not only for your professional life but also for your personal time! You deserve to work somewhere with a positive environment, where you will leave work feeling satisfied and energized.
Research Your Own Questions to Ask During a Dental Interview
We hope CDP can be that workplace for you, and that our list of questions to ask during a dental interview is helpful. We recommend doing further research to find questions that resonate with you. Alternatively, you can come up with your own, if this list does not cover all of your concerns. Our recruiters are eager to speak with you and ready to answer any questions you may have! Schedule a call with a Recruiting Manager to learn more about starting your career at a great dental service organization like CDP!