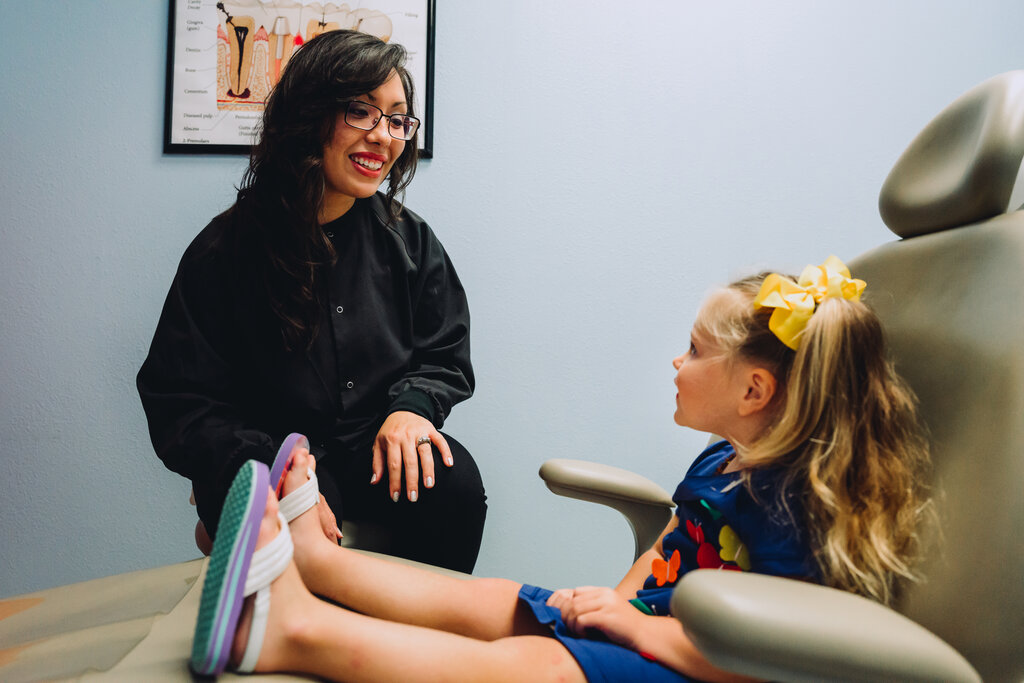 Pediatric dentistry can be a great career choice for many reasons. Beyond the potential financial benefits and job security of pediatrics as a specialty, many dentists are attracted to what they assume will be a fun, easy work environment. But what does a pediatric dentist's work environment really look like?
Working with Kids Can Be a Lot of Fun—But Not Always
Pediatric dentists frequently enjoy a more fun and light-hearted work environment than most general dentists. Many kids will come to your chair excited and enthusiastic. They ask unique and unexpected questions. They're a super easy audience for all your best cheesy jokes. In short, for people who enjoy children, pediatric dentistry gives you a ton of opportunities to enjoy your day.
When a child is not in the mood for their appointment, it can gum up the work. Timid, hesitant, and resistant children can't be reasoned with in the same way as most adults. Where adult patients can usually self-regulate enough to get through even the most challenging procedures, kids need those skills. If a young patient shuts down or becomes overwhelmed, it can completely derail your plan. There will be times you'll have to cancel the appointment and reschedule.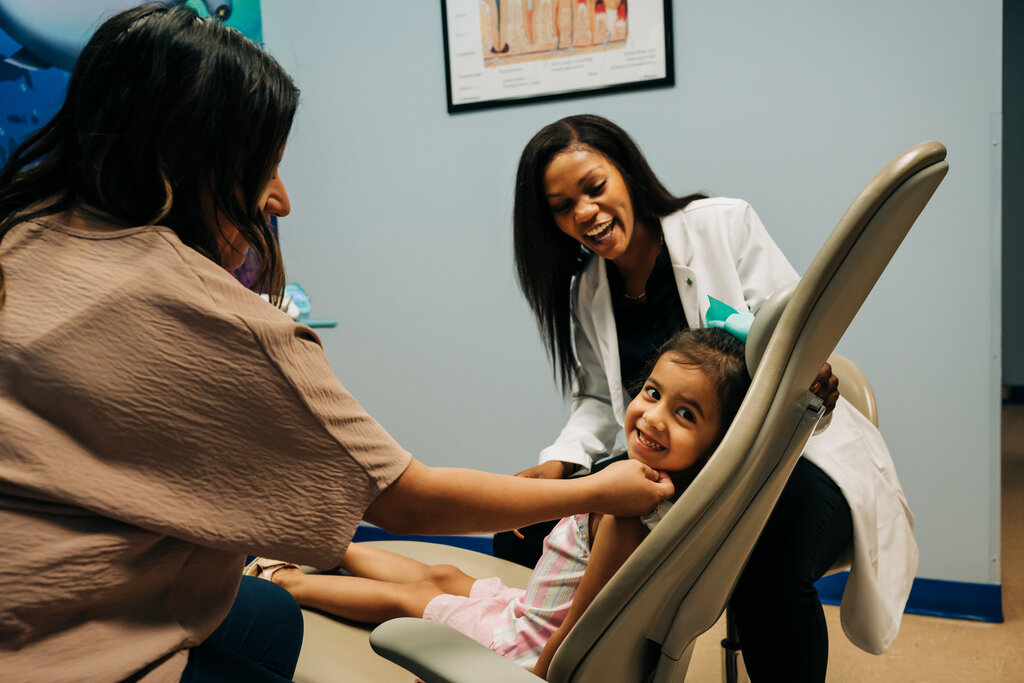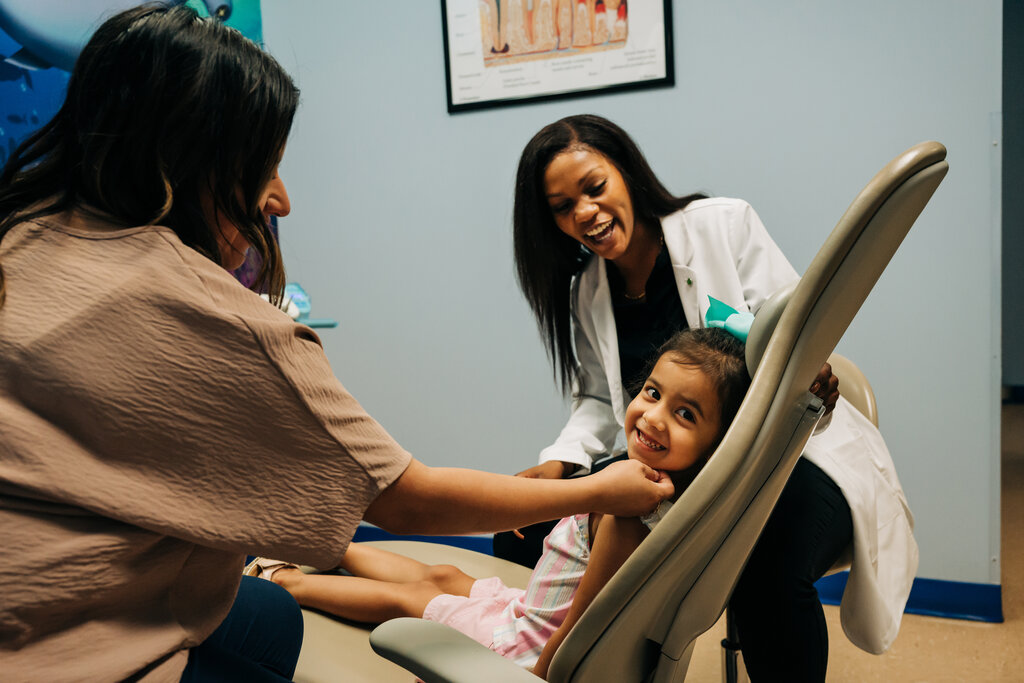 However, pediatric dentists who have perfected their patient management skills can turn these challenges around. By effectively managing the heightened emotions some patients may experience, you can help guide children toward confidence and comfort in the chair. Unlike adults, kids frequently overcome their trepidation at the moment. They can move quickly from crying to giggling with the proper reassurance.
It will be up to you as the dentist to keep the energy in your practice positive and fun. Working with the right team can make all the difference. As you search for a job or consider partnering with a group like Community Dental Partners, be sure to scope out the culture and environment of their pediatric practice. We believe in crafting a welcoming atmosphere for kids as an essential step toward positive experiences and a lifetime of excellent oral health.
Pediatric Dentists Need to Be Comfortable Working with an Audience
Dental appointments can be a source of anxiety for kids and parents alike. Parents and caregivers often expect to accompany their children throughout their appointments. This can be nerve-racking for dentists not accustomed to working with an audience. A critical guardian watching over your shoulder can throw you off your rhythm.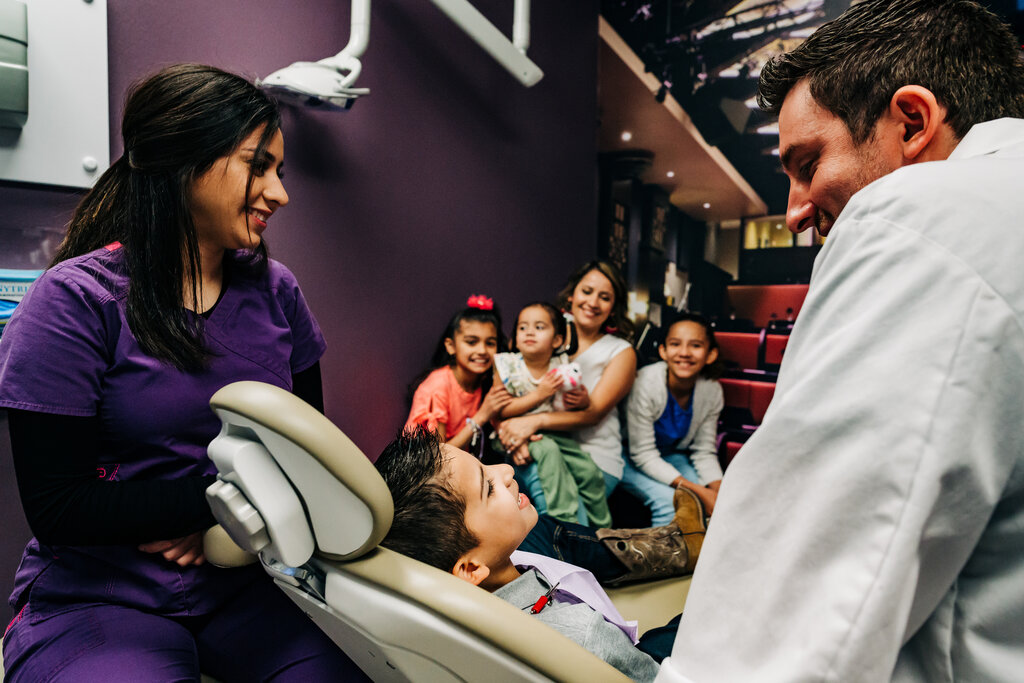 Not only that, but parents sometimes make kids even more nervous and less compliant than if they were flying solo. Even the most well-intentioned guardians can do more harm than good regarding patient management. Children can feel their family's worry and allow it to escalate their concerns. Pediatric dentists need to be experts in de-escalation and helping people manage their fears. You'll need to build trust with your patients and their families, and it can be tricky to balance both sides.
Your team makes a difference in your work environment as a pediatric dentist. The practice should have clear guidelines for when you can ask parents to leave things up to you and when they should be allowed to pull up a chair. Your team needs to be emotionally and energetically available to help you manage patients and parents. As you'll find with CDP, a well-run pediatric practice will help you build the right team to give your patients the memorable experiences they deserve while keeping parents happy.

Great Pediatric Dentistry Means You'll Need the Right Stuff
One of the great benefits of specializing rather than working as a general dentist in a family setting is that your practice will be tailor-built with smaller patients in mind. Most family practices have adult-sized equipment. That can make it hard to get quality diagnostic images, achieve accuracy with your handpiece on those tiny teeth, and even position your patient comfortably in the chair.
You'll get the right equipment for your patients in a specialty practice. You'll be able to do better pediatric dentistry in a work environment built with kids in mind. Your instruments will fit your patients better, from smaller X-ray sensors to booster seats. Even the décor in pediatric practices typically appeals more to kids and helps them feel less afraid. Rather than the sterile, muted colors of many general practices, your pediatric office may have bright walls with fun characters. You'll likely have educational tools more suited to your audience, like plush animals and oversized toothbrushes.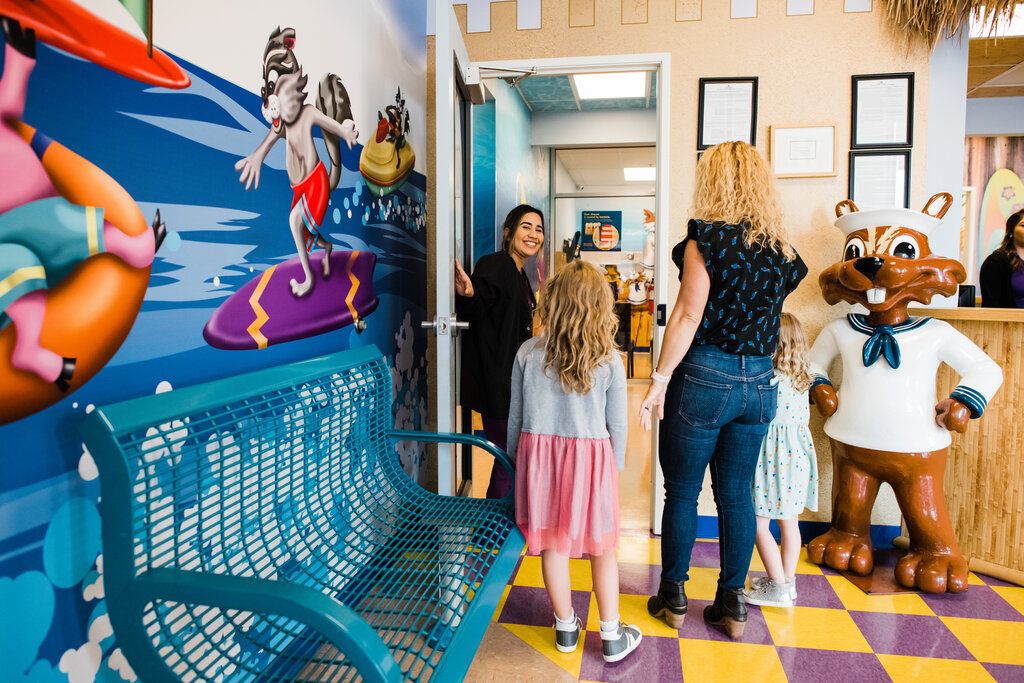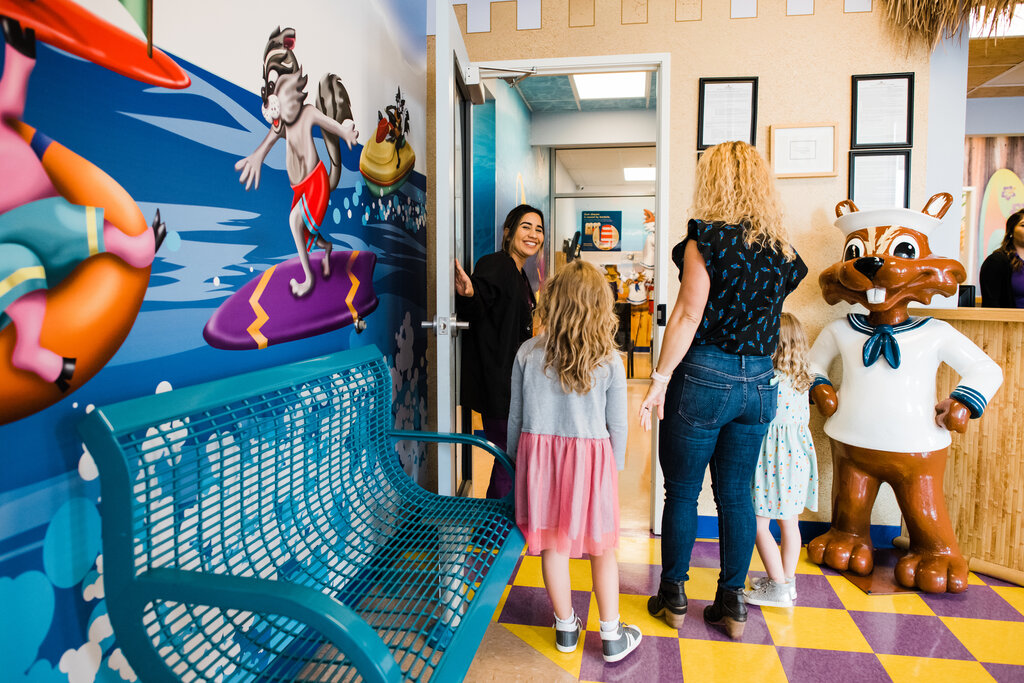 You'll also have the training and certifications to offer the full range of treatments your patients may need, including sedation. With the right team beside you and a practice prepared to give you what you need to do your best work, you'll be able to give your patients the excellence they deserve in a comfortable environment.
Pediatric Dentistry Is a High-Speed Work Environment
Perhaps more than any other type of dentistry, pediatrics is a high-speed work environment. You'll be on a tighter timeline when working with kids, from cleanings to fillings and even the most advanced procedures. Part of this time restriction comes from a productivity framework. After all, most children's teeth require less time to work on than their adult counterparts.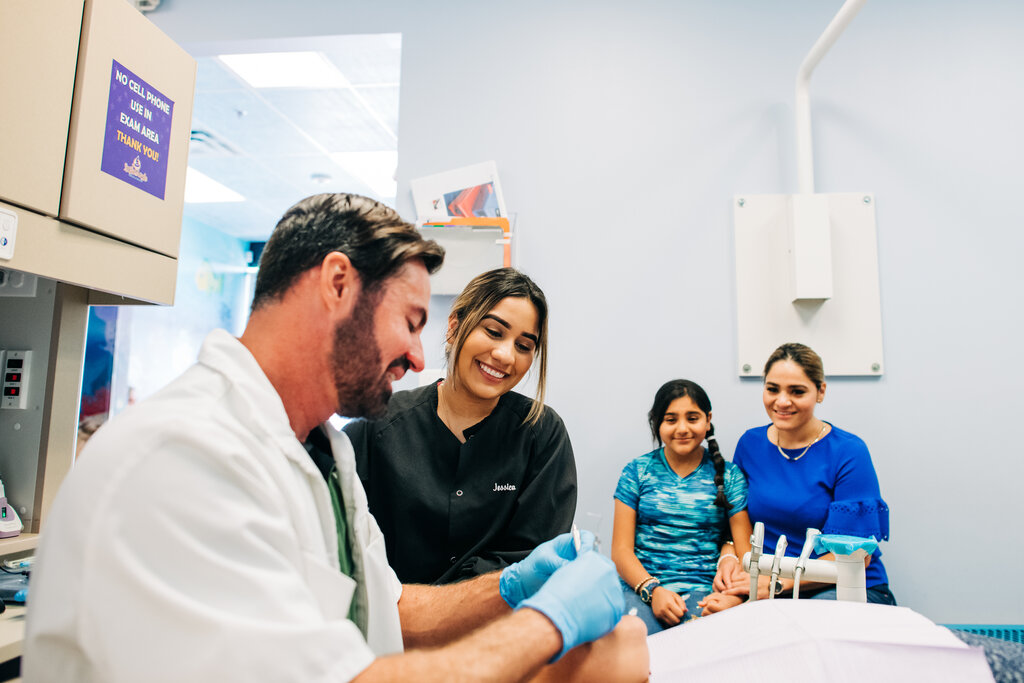 However, more than maximizing your time to see as many patients per day as possible, kids have less bandwidth for how long they can sit still. You can't reasonably expect a small child to sit in your chair for hours unless they're undergoing sedation. On average, you'll need to come prepared to work quickly and for speedy turnover in your operatories. Again, the right support team can help keep everything working smoothly and efficiently. And help keep kiddos calm and compliant while you work!
It's also important to note that working quickly on many patients per day can wear on you over time. As a pediatric dentist, finding a work environment that can help you maintain your energy is essential. Be sure your practice will help you achieve a healthy work-life balance and avoid burnout. An excellent dental office culture with an eye toward career satisfaction and longevity will serve you exceptionally well as a pediatric dentist.
Here at CDP, we pride ourselves on providing the best experience for each patient. That means giving our doctors the right equipment and work environment to provide daily focused, compassionate care. Schedule a call with a Hiring Manager to learn more about pediatric dentist careers at CDP!