The state of Texas is known for many things. One might picture wide open grasslands, the Lone Star, and barbecue. Sure, Texas has all of those things, but Texas is so much more than that. Discover why Texas is growing so fast and why dental jobs in Texas, whether for dentists, hygienists, or anyone in the dental field, are growing with it!
What's So Great About Dental Jobs in Texas?
There are a lot of reasons why Texas is an incredible place to live! Not only is it a fantastic place because of its hospitality, but the cost of living is far lower than in many other great states! You will also experience the culture and community of Texas, which is unlike anywhere else. The people here are friendly, and there's never a dull moment! You know what they say, "Everything's bigger in Texas," including the smiles!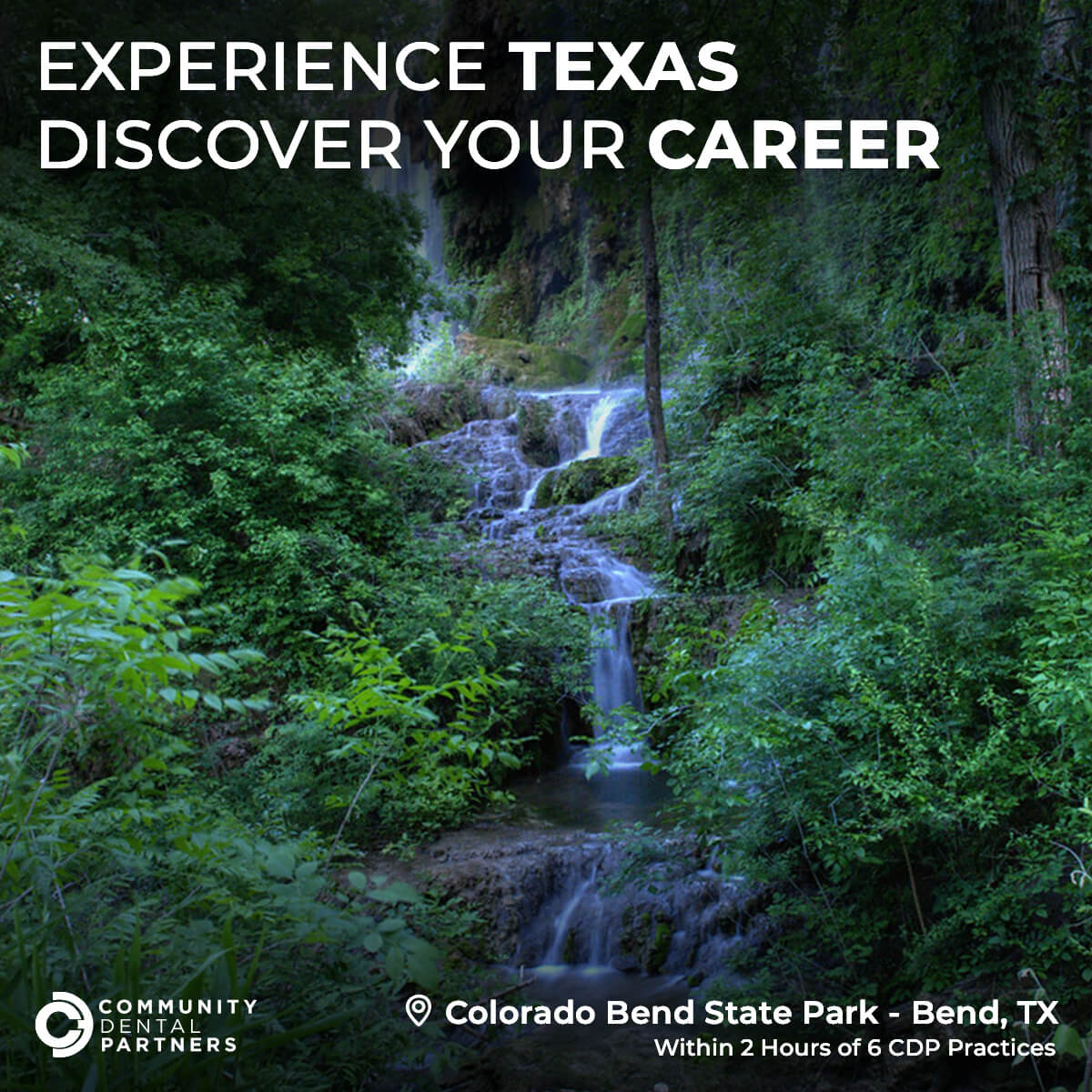 Location, Location, Location!
Texas is an amazing state full of so many different things to see and do. It's also incredibly diverse; you may forget you're in the same state! Depending on where you live, you might enjoy the city, a rural town, a beach, the desert, or the plains! You might even live near Mexico, an entirely different country! The regions, people, and culture of Texas vary so much; there's always something new and exciting to experience, which is just a part of why we love Texas so much and know you will, too.
Affordable Cost of Living
We've all heard that the cost of living keeps going up. Luckily for Texans, the cost of living is still much lower than in many other states, on average. The state was ranked 14th in cost of living by US News. As for housing, it ranked right in the middle, 28th out of all 50 states. This is far lower than many other popular states, like Florida, California, and Washington.
What does a low cost of living mean for you? A better life! As a dentist, you've spent several years of your life and thousands of dollars on your education. A low cost of living helps ensure that you're able to afford everything you need, with more left over to enjoy your life and support your family! There's a reason Texas is the 3rd-fastest growing state according to the 2020 census!
Community First
The people in Texas are friendly! We've heard time and time again how friendly people are here. People look out for each other in Texas, no matter how long you've lived here. Texans love Texas, and they're proud of that! Even in its larger cities, you'll still get a small-town feel because of how friendly people are. The amazing residents are a big reason why the smiles are bigger in Texas!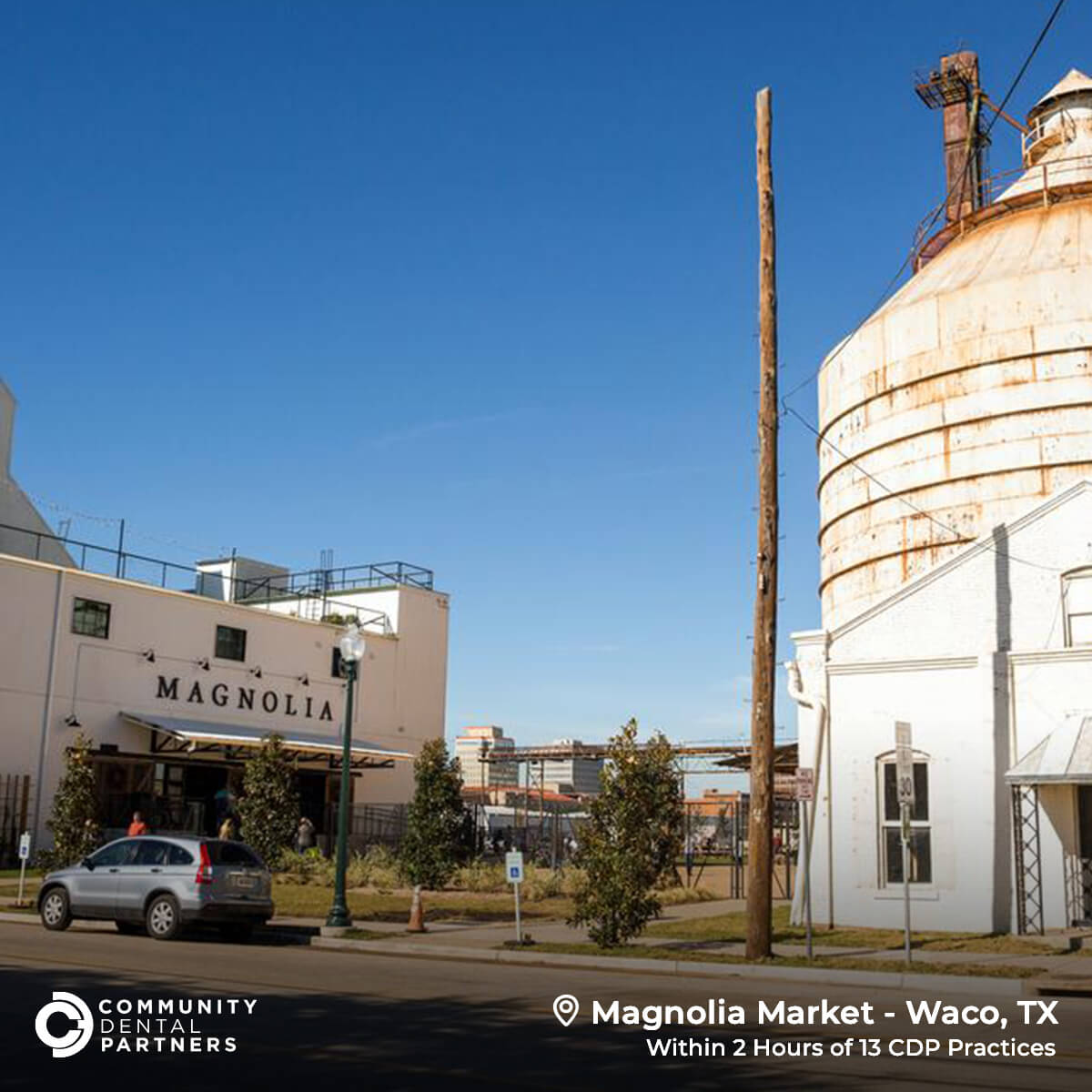 Amazing Culture
Texas wouldn't be the same without its big, bold culture. We're sure you've heard the stereotypes. Yes, we love our tea sweet. And yes, we love our barbecue, Tex-Mex, and football, and we sure are friendly, aren't we? But that's just a part of what makes Texas so great! Texans take pride in who we are, and we're not ashamed of it.
Texas's culture is bigger than any one of us, and we think that's a great thing to be a part of. We'll keep on saying hello to people passing by and having dinner with the neighbors, and we hope you'll join us one of these days!
Why Choose Community Dental Partners?
We're Community Dental Partners, and if you haven't guessed by now, Texas is our home state! We take a lot of pride in that, and we also draw a lot of what we do from this incredible state. We're creating numerous dental jobs in Texas, and we're not slowing down any time soon!
Best-in-Class Doctor Support
It's in our nature to support those around us, and our doctors are no exception. We make sure our dentists have everything they need to succeed, from their financial well-being to their confidence in providing the best care possible. We work hard so our doctors can take care of their patients while we take care of the rest.

You'll be supported by our entire team! During our 10-week onboarding process, you'll learn everything you need to know about serving patients as a CDP clinician. You'll work with mentors who will show you the ropes so you can feel more confident. And, once you're in your practice, we'll handle everything from scheduling to billing, so you can focus entirely on your patients. If you ever have questions, help is just a call or text away!
A Seriously Fun Company Culture
Taking our culture seriously must be in our blood! We know how important company culture is to your work life, and we treat it that way. We've clearly defined our culture in Nine Pillars and strive to live by it every day. It's at the heart of what we do, and we wouldn't be the same without it.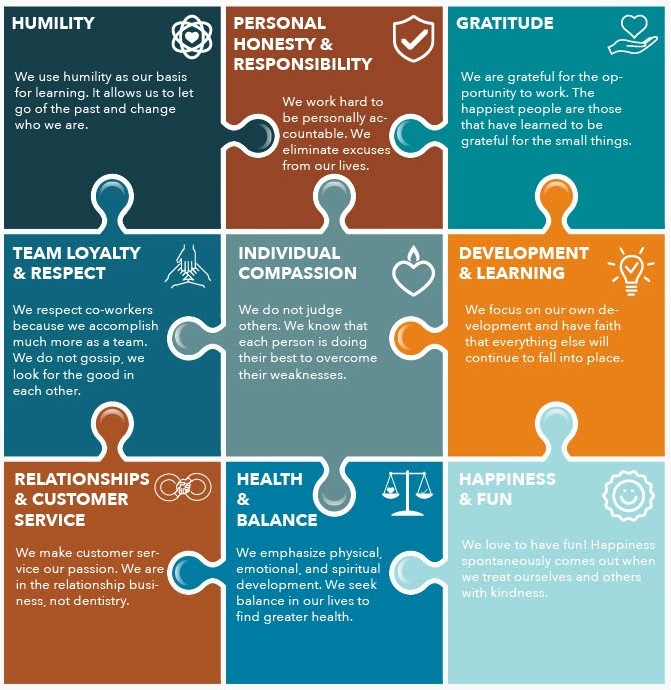 The 9 Pillars include the following:
Humility: We use humility as our basis for learning. It allows us to let go of the past and change who we are.
Personal Honesty & Responsibility: We work hard to be personally accountable. We eliminate excuses from our lives.
Gratitude: We are grateful for the opportunity to work. The happiest people are those who have learned to be grateful for the small things.
Team Loyalty & Respect: We respect co-workers because we accomplish much more as a team. We do not gossip; we look for the good in each other.
Individual Compassion: We do not judge others. We know that each person is doing their best to overcome their weaknesses.
Development & Learning: We focus on our own development and have faith that everything else will continue to fall into place.
Relationships & Customer Service: We make customer service our passion. We are in the relationship business, not dentistry.
Health & Balance: We emphasize physical, emotional, and spiritual development. We seek balance in our lives to find greater health.
Happiness & Fun: We love to have fun! Happiness spontaneously comes out when we treat ourselves and others with kindness.
The Nine Pillars serve as the foundation of everything we do. Our goal is to build one another up so we can continue to provide better and better service to our patients, and these pillars guide us toward that goal. If our culture seems like a good fit for you, we'd love to have you join us!
Above-Industry Doctor Compensation
We know that you're not in dentistry for the money, but we also understand that you need to be able to support yourself. That's why we provide above-industry compensation to our doctors! New dentists at CDP earn an average of $272,000 in their first year! That's $150,000 more than the industry average for first-year dentists.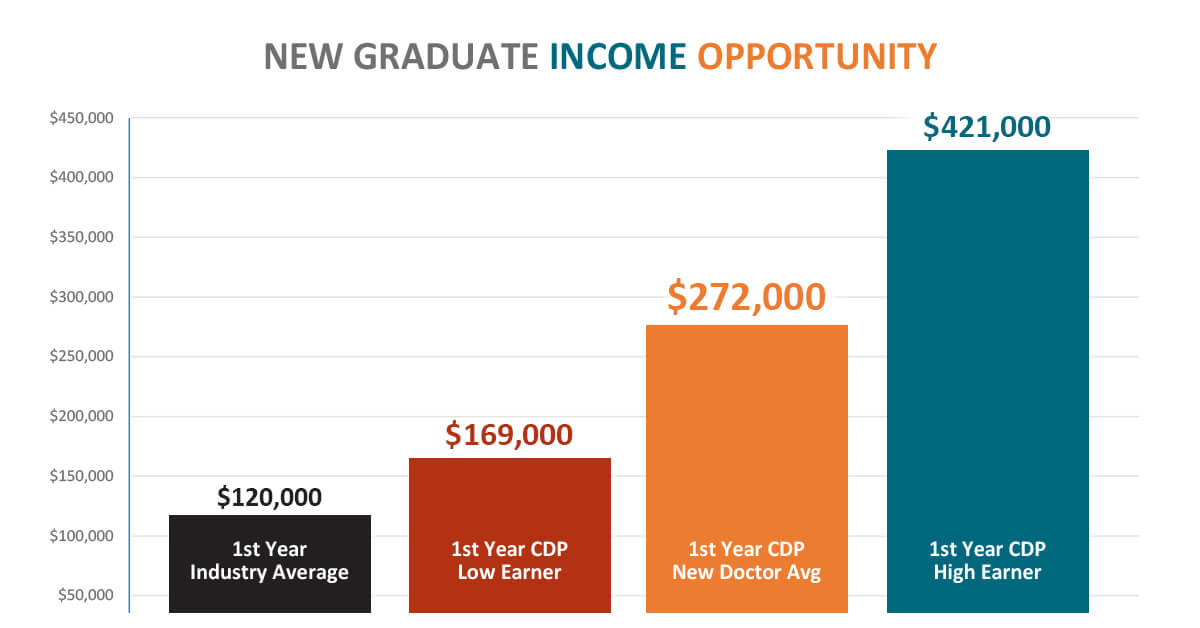 Your benefits are an important factor to consider when weighing the pros and cons of different compensation packages. We provide health insurance, and we offer loan repayment options, as well! Make sure you keep benefits in mind when you're reviewing any compensation package. We include great benefits so that you don't have to worry and can continue to focus on doing your best work!
Ready to learn more about Community Dental Partners' dental jobs in Texas? We'd love to learn more about you and help you explore your dental career at CDP! Schedule a call with a Hiring Manager today! We look forward to hearing from you!